Nosto reviews your customers' actions, learning their likes and dislikes and allows you to deliver automated, personalized recommendations in real-time.
Features:
Facebook Ads
Nosto's personalized Facebook Ads displays your products automatically on Facebook to user's past browsing and buying behavior. The ads will be displays right in their news feed.
You can retarget lost customers who have visited your site previously but left without buying. Nosto will recommend products picked just for them based on their previously shopping experience.
With abandoned cart recovery ads, you can encourage shoppers who added products to their cart but didn't make it through the checkout process. On Facebook, you can recommend products related to what they had in their cart.
You can even show ads to customers who have purchased from you. Encourage converted customers to continue to buy through your site by suggesting products relevant to what they have already bought.
This results in higher conversion rates, larger order values and happier customers.
Product Recommendations
Homepage
On the homepage, you can welcome customers back who are returning to your site. This will allow you to show products that they are interested in and will help them complete their shopping experience with you. As a store owner, you can automatically display trending products to allow your customers to see what is most popular right now.
Other options that can be displayed on the homepage are Products You Recently Viewed, Recommendations for You and You Might Also Like.
Product Page
On the product page, you can display recently viewed, cross-sell and up-sell products. The up-sell products are automatically recommend higher priced but similar products. The cross-sell products recommend complementary items to the ones on the product page, which makes it easier for your customers to find related products and add more items to their cart.

Category Page
On the category page, you can display Most Popular Products in this Category and Products You Recently Viewed.
Cart Page
On the cart page, you can display Customers Who Bought These Also Bought, Still Interested in These?, and Most Popular Right Now.
Search Page
On the search page, you can display Customers Who Searched for 'xxx' Viewed, and Products You Recently Viewed.
Behavioral Pop-ups
Using Nosto, you can have offers that are time-limited or one-time discounts for your customers. Creating a sense of urgency and encouragement towards your customers turns the hesitant customers into buyers!
With Nosto, you can create pop ups for new or first time customers and offer them a discount. You can reduce site abandonment with a triggered pop up when the customer has an intent to exit. You can offer specific promos from customers who come to your site from a paid search or Facebook ad campaigns.
This specific example is when a customer is on the cart page and they have intent to leave the site, a pop up will appear with a discount for them to use on their order.
Personalized Emails
With Nosto, there are a few different email types that you can send out to your customers all of which are triggered emails. One email type is abandoned cart emails. When an item is added to the cart and the customer leaves the site, Nosto can send that customer a reminder email, like the one below, that will let the customer know they left a product in their cart, and try to bring that customer back to your site to make a purchase.
Another triggered email that can be set up is Order Follow Up Emails. You can set up automatica follow-up emails which include related and relevant product recommendations. These emails can be delayed shortly, like a couple of days, to entice the shoppers who already bought, to continue their shopping spree!
We miss you emails are also very helpful to bring customers back to your site who haven't visited in awhile. The emails are automatically sent with personalized product recommendations from the customer's last shopping behavior.
Why Nosto?
Nosto's pricing is based upon what your store makes in sales and with the sales that Nosto has generated for you. So you only pay for the sales that Nosto helps you make. There is no fixed fees, setup costs or contracts.
With Nosto, you get very detailed analytics of how your store is running with Nosto.
A few of the analytics you can review are:
Audience: overall stats of visitors on your site
Potential Sales: Describes what sales would have been without cart abandonment
Nosto Recommendations: Nosto specific performance statistics
Triggered Emailing: Nosto email specific statistics
Discount Pop-ups: Nosto discount specific statistics
Total Sales: Overall sales statistics
Sales through Nosto: Nosto specific sales statistics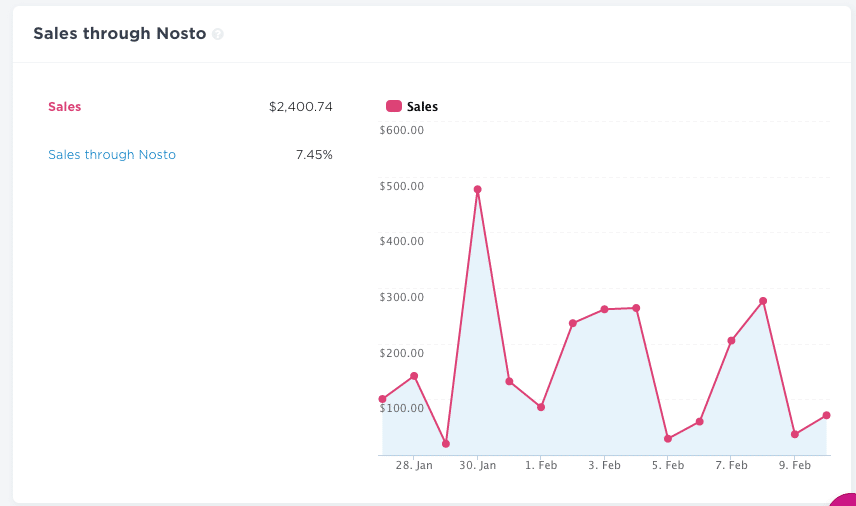 Nosto offers One to One Personalization. Nosto delivers specific recommendations for each individual. Nosto analyzes what brands and categories the customer views and can tailor their recommendations specifically to each customer.
Nosto's recommendations are in real-time using a self-learning engine that detects which products the customer viewed and provides recommendations based on their behavior, all in real-time.
Nosto offers a free trial – so give it a try today! Let us know what you think.