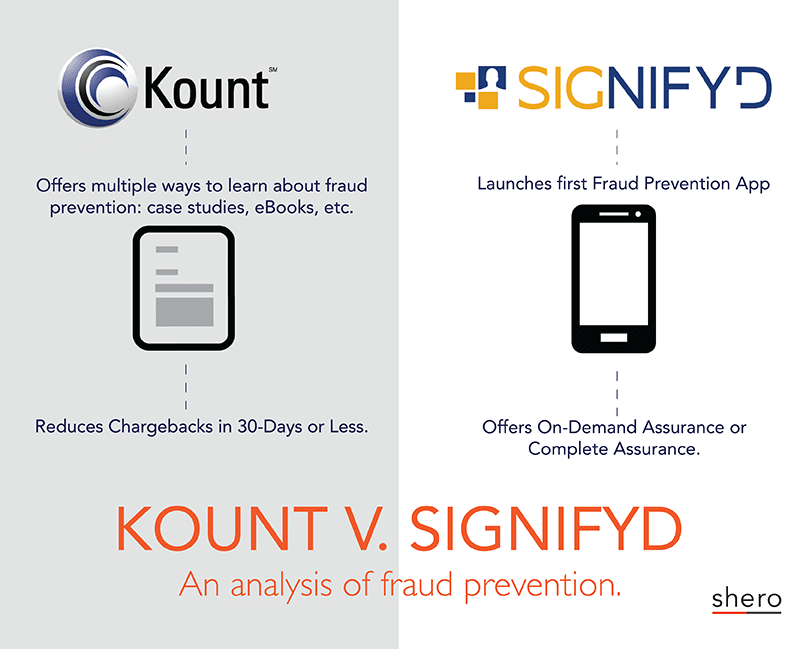 As consumers are increasingly using the internet to shop online, more and more merchants see fraudulent transactions and chargebacks. Unfortunately, there is not much that can be done after an order that has been placed with a fraudulent credit card has left your warehouse. When the real credit card owner finds out their credit card has been compromised, they claim they did not authorize the purchase or ?identity theft. In this case, the merchant hardly wins and ends up paying the customer's chargeback even though they have proof they legitimately shipped the order. ?The solution to not end up paying thousands in chargebacks is to use a fraud prevention platform like Kount or Signifyd.
How Does Kount and Signifyd Work?

Every transaction goes through a complete fraud screening which generates a "score" to indicate the likelihood of a transaction being fraudulent. Based on that score, a transaction can be approved or rejected.
To determine the score, both systems include rules based on address, geography, recent credit history, historical purchase information, IP address as well as many others. These rules are highly complex based on the respective companies expertise in fraud detection.
For example, one item they will review is how frequently chargebacks occur on a particular credit card. Since one cause for chargebacks is fraudulent purchases – a card with high chargeback rates is highly suspect.
For historical profile information, both companies include not only the history from your own website, but the history from all their client websites. This allows them to detect a spree of fraudulent purchases across hundreds of websites after only a few such transactions. To do so, this information is aggregated and anonymized so no confidential information is leaked between clients.
Both systems allow you to configure your own whitelists and blacklists – so if you never want to accept orders from Poughkeepsie, NY, for example, you have them blocked automatically.

Kount's Fraud Prevention Platform:
Kount uses a ranking score called the Kount Risk Score. In addition to the extensive set of rules included in the Kount Service, they also provide access to rules generated by other experts in Fraud Detection. These additional services come at an additional cost. In addition to accepting or declining transactions, Kount allows you to define a gray area for manual review. For example, you may decide if the Kount Risk Score is greater than 20 to reject it. If it is between 15 and 20 place the order on hold for Manual review.
Manual reviews can be reduced to 1-2% of all transactions, or eliminated altogether, saving time and money. Kount's Workflow Queue Manager sends transactions to the appropriate agent based on a merchant's criteria. The Kount Agent Web Console gives the agent single-view access to all data, third-party information, and Kount Risk Score information to resolve transactions with speed and efficiency.
During suspect order review, Kount will notify the agent if the Kount score for a particular user has changed due to additional information gathered on the order processed by Kount. The agent has the ability to request the details for the updated score if needed.
At your request, Kount will have their fraud detection team perform a comprehensive review of your fraud detection decisions. By looking at the history of which reviews were approved and rejected, they can suggest changes to your ruleset to reduce the number of purchases that require manual review. The review is based on the historical data collected by Kount, so it is best to wait 4 to 6 months before your first review. There is no cost associated with the review.
Kount will not slow down checkout. Kount responds in an average of just 300 milliseconds, making it completely transparent to users. This means the checkout process and user experience are unaffected by Kount fraud detection screening.

Signifyd Fraud Prevention Platform:

Signifyd allows merchants to find and stop fraud-related charges, which in turn boosts the company's profits. Signifyd was build from the experts of PayPal and is used by multiple Fortune 100 and Internet Retailer Top 500 companies. Signifyd automatically validates your orders using fraud detection technology. They never automatically decline any of your orders, moderation actions are always your final decision.
Signifyd has two options for reviewing fraud: On-demand Assurance and Complete Assurance.
On-demand Assurance allows you to manage fraud by yourself and ask Signifyd for help when needed. You are able to get help anytime from a certified fraud expert without worrying about a chargeback.
Complete Assurance Signifyd will review, decide and guarantee all your orders for you so you don't have to worry about fraud and can focus on your business.
When you are using Signifyd, there is a 80% decrease of manual reviews that need to be done. Signifyd scores the transactions based upon two goals: maximize your revenue and keep chargebacks low so that your processor does not shut you down.
There is no slowdown with checkout. All orders are guaranteed in .5 seconds. Signifyd is virtually invisible to customers; they won't even know you are using it.
Conclusion
Now you may ask which of these two platforms is better? Honestly, that depends on the type of business you're in and the number of monthly transactions. We've implemented both systems for our customers and like them both the same. Signifyd requires a more hands-on approach from the merchant and is easier to implement. Kount on the other hand,?allows for a more customized fraud prevention strategy ?and needs a little more work to implement and get it to work the way you need. When compared to the financial loss chargebacks can have on your business, both Kount and Signifyd are worth the cost.